Practitioner of the Month
We are so proud of our team of practitioners here at KIH Clinic. Throughout the year we want to highlight these practitioners so you can get to know them better. We'll feature their strengths and area of focus so they can serve you better. They will also provide an article with health tips in an area they specialize. Watch our social media and website for these great tips.
---

April 2020 Practitioner of the Month
DOROTA LOMBARDI, RMT, CAHP
Registered Massage Therapist
Dorota is a Registered Massage Therapist and a Certified Aromatherapist working at Kleinburg Integrative Health. She is registered and in good standing with both the College of Massage Therapists of Ontario and the Canadian Federation of Aromatherapists. She speaks English and Polish and is currently learning Italian.
Dorota is passionate about learning new things especially when it is related to her massage profession. She is also passionate about helping her clients the best way she can with her art. She incorporates the foundations of General Swedish massage techniques into her treatment plans and is also certified to use supporting modalities such as Cupping massage, Hot Stone massage and Aromatherapy massage, to treat muscle-related tensions and injuries. Both a Relaxation-focus and/or a Deep Tissue rehabilitative-focus can be included into treatment plans based on what the goals are of the patient. Essential oils can be used based on request, safety and type of massage modality being used. Everything is discussed and planned beforehand to guarantee the client receives a top-class treatment.
To meet, or speak, with Dorota or for more information about the different massage modalities and services offered at Kleinburg Integrative Health, please contact the clinic at 905-893-2898.
---

March 2020 Practitioner of the Month
LEORA BARAK, BA, RHN
Registered Holistic Nutritionist
Leora Barak, BA, RHN is a Registered Holistic Nutritionist practicing in the city of Vaughan, Ontario. She is a graduate with Honours from the Canadian School of Natural Nutrition. She fully acknowledges that each person is biochemically distinct with unique nutritional and lifestyle needs and, as such, her integrative approach to health focuses on complementary and customized Nutritional Therapy combined with sustainable lifestyle changes. She has a special interest in healthy & sustainable weight loss, infertility and digestive disorders. She has proudly developed the IBD Program, a Program which has been successful in bringing active Inflammatory Bowel Disease, and other inflammatory disorders, into clinical remission. She wholeheartedly believes that nutrition is the strongest weapon we have and the first line of defense against chronic disease.
Outside of her practice, Leora loves to travel and spend time with her family and friends.
---
February 2020 Practitioner of the Month
DR. POLINA MAK, BA (Hons), ND
Naturopathic Doctor and IV Therapy Practitioner
"I teach people with chronic infections, IBS and SIBO the action steps for building a strong immune system, healing leaky gut and reducing inflammation with ease" - Dr. Polina Mak ND

Through her clinical practice, teaching and writing, Dr. Polina Mak, Naturopathic Doctor, inspires a grounded and tangible sense of 'Wow! I really can feel better' for hundreds of people with chronic illness.

She proves that by moving away from 'treat the symptom' and into 'treat the cause', even the longest time irritable bowel sufferers can bypass overwhelm and frustration, and instead achieve exciting momentum as they move closer to health and wellness.
---
January 2020 Practitioner of the Month
ALEXANDRA GUSINKSY
Registered Psychotherapist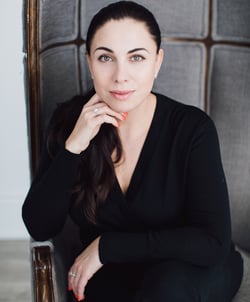 Her areas of expertise are; depression, anxiety, traumas, life transitions, relationship issues, emotional and attachment disturbances in adults.
Her two main passions in life are; psychotherapy and interior design. "I think they are somehow related in a way that psychotherapy helps people become more in charge of their inner experience and create a safe and comfortable inner landscape. Interior design allows us to do that in the physical world. When you have the freedom to turn any space into something beautiful and comfortable, meeting your unique taste and needs can be very therapeutic. As Winston Churchill said; 'We shape our buildings, and afterwards our buildings shape us' and I couldn't agree more."