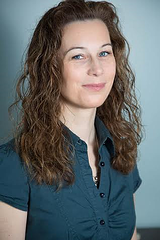 Katherine Anderson,
Registered Massage Therapist
Katherine has been a Registered massage Therapist in practice since 2002. Having completed a 3 year diploma program at Sault College, Katherine has worked in many different clinic environments applying her knowledge of assessment, anatomy, physiology and pathology. Katherine has made her passion for continuing education a priory over the course of her career and continues to now. Katherine has explored many areas of study of manual therapy. One area of focus that has developed myofasical release, this applies to the very important connective tissue of our body.
Katherine is certified in Myofasical Release and completed the Masters Series in
Structural Integration in 2005. Structural Integration is a ten session series that focuses on postural alignment. By applying gentle pressure to the Fascia we can correct long standing postural issues by rehydration of the affected tissues.
Katherine's passion is restoring balance and calm to the body. Her elite skill set and wide-ranging background in several body work modalities allow her to see not only the potential source(s) of pain, but also the bigger picture in terms of long-term recovery.
It is a wish fulfilled to be on staff at Kleinburg Integrative Health as Katherine fully believes a multi disciplinary approach is the best approach to successful client care.
What to Expect on Your First Visit
Your massage therapist will require you to fill out a health history form. Afterwards the therapist will begin by asking you general questions to establish what areas you would like worked on, if there are any conditions needing to be addressed and to determine if massage is appropriate for you. Your massage therapist may perform certain assessments and testing to evaluate your condition, and to see if you have any presenting complaints.
Frequently Asked Questions
Q:
What is a Registered Massage Therapist?
A: Massage therapy is a regulated health profession in Ontario and as such, massage therapy should be performed by a Registered Massage Therapist (RMT or MT).
A Registered Massage Therapist is an individual who has:
Completed competency-based education at educational institutions recognized by the Government of Ontario
Studied anatomy, physiology, pathology, physical assessment, neurology, treatments, ethics and other subjects
Completed a minimum of 150 clinical hours
Successfully completed examinations from and have been "registered" by the College of Massage Therapists of Ontario (the College) in accordance with the Regulated Health Professions Act and the Massage Therapy Act
Maintained their registration by participating in continuing education and a Quality Assurance Program that assists them in the maintenance of high professional standards and quality care of their clients
Only members of the College are permitted to use the title, Massage Therapist or Registered Massage Therapist or the designation of RMT or MT.